From March 24th to April 5th, the city of Athens hosted the Space Expo of the European GNSS Agency (GSA). This exhibition presents key information on the European space programmes - from satellite navigation (Galileo and EGNOS) to Earth observation (Copernicus) in an attractive and stimulating way.
By touring in the mayor European cities, Space Expo has now attracted more than 500.000, and, in Athens, it was the ideal platform to promote space activities.
On April 2nd, the Hellenic Space Technologies and Applications Cluster (si-Cluster), and the Apulian Aerospace Cluster (DTA) have jointly organised a networking event "Interregional Cooperation in Space" aimed to highlight the successful cooperation between the two clusters.
Representatives of the two regions and clusters were present, including: Katerina Paliou, Special Advisor, International Affairs, Attica Prefecture; Bernando Notarangelo, Head of Mediterranean Department, Apulia Region; 
Giovanni Sylos Labini, Board of Directors, DTA; and Jorge-A. Sanchez-P, Board of Directors, si-Cluster.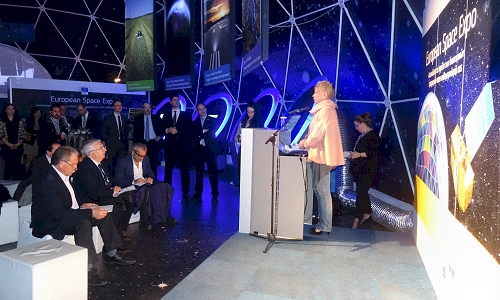 "Beyond the long standing geographical proximity" highlighted Katerina Paliou "Italy and Greece are building important space projects thanks to their technological network of industries, universities and research centres". "Space" she added "is today fundamental for the benefits of citizens, of territories and industries, and we are very proud that Attica Region has recently adopted the Smart Specialisation Strategy (3S)".
"It is important" quoted Giovanni Sylos Labini "that, as Apulia Region, Attica "consider space, a pillar of its 3S strategy. This new model of regional economic aims at a smart, inclusive and sustainable growth, that are three topics perfectly in line with the Space Economy".
In the Regional Space Plan developed by the DTA, the cooperation among clusters are really strategic to better exploit public resources devoted to space activities. In this context, it is important to remind that, during the Toulouse Space Show 2014, the DTA signed with si-Cluster and Aerospace Valley, a bilateral agreement for a future long cooperation in space.
Apulia Region stongly believe in the importance of interregional cooperation and since last July, Nichi Vendola, President of the Region, it is also the President of Nereus, the Network of European Space Regions. The first strategic goal is to reinforce relationships with National Space Agencies, the European Space Agency (ESA), GSA & European Institutions to identify sinergies between the 3S Strategy at Regional & National level.
This networking event at Space Expo, together with the technical workshop organised by si-Cluster and DTA on April 3rd, was also an opportunity to give regions, regional stakeholder, policy makers and cluster representatives a platform to share their views and exchange best practices.
The two clusters agreed to meet again in Apulia Region next September to discuss more in details how they can benefit from their own technology and expertise to develop new space projects.