The IMPULSO project is part of the initiative "Industry 2015", presenting a new system which participates in a group of Italian companies and research institutions. The goal is to develop new products and innovative solutions in the field of mobility and transport of goods monitoring and management processes (more efficient and at the same time more respectful of environmental and social constraints), increasing the competitiveness of the industries involved.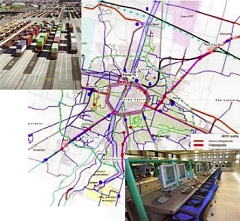 IMPULSO aims to create an integrated logistics management system covering management of freight transport in the medium / long distance and in urban areas.
IMPULSO is therefore placed in the sub- B2.3, "system components and logistics for the transport of manufactured goods in urban areas" and the sub- B2.4, "multimodal system, safe, integrated and timely for the transport of goods medium and long range", in fact providing:
the definition of a model of city logistics and multimodal logistics applicable for the transport and delivery of goods both in metropolitan and medium and long-range;
the implementation of the ICT system necessary for the implementation of this model.
Planetek Italia is responsible for the implementation of the subsystem tracking and tracing vehicles and vehicle traffic modeling subsystem tracers, both in inland and metros.
These subsystems provide the highest level of efficiency possible in the process of transport and delivery of goods, reducing the impact on local traffic and the environment by calculating the optimal paths taking into account both the current state of the traffic that the current conditions of roads.
Both subsystems have influence during the entire "terrestrial" transport within which the various means, carrying the goods from the last "nautical mile" to the various logistics platforms sorting and detail. They allow the immediate identification of the most appropriate route to take through the monitoring of traffic conditions.
The subsystems thus:
significantly contribute, through the constant monitoring of the movement of the vehicle, the optimization of the path followed by the vehicle;
increase the general level of efficiency at every stage of the shipping service;
increase knowledge and monitoring of the state of general driving roads in support of the planning and programming of transportation companies.
Read also the article on our blog (in Italian) "Telecontrollo flotte e smart city intelligenti"